Digital Curation and Gender in Information Science: access and preservation
Palavras-chave:
Curadoria Dados, Gênero, Ciência da Informação, Design, Acesso e Preservação
Sinopse
The world of presences is simulated, presented and represented on digital environments. In the context of digital-virtual communication, and from the recent transformations on their supports, information multimodal collections move to a state in which informational subjects' access to information can be facilitated and expanded.
In such a universe, represented information and data need conceptual and technical treatments that respect the nature and particularities of the media and languages that transit through them. In addition, as they are processed on a fragile medium such as the digital medium, information encoded on electronic media also needs procedures and curation aimed at its integral preservation.
In Information Science, the set of continuous and iterative procedures aimed at meeting the demands of curation to optimize access and preservation is named Digital Curation: a complex of processes that range from the initial design and conceptualization, to metadata designation, appraisal for preservation or disposal decisions, transformation, access, sharing and re-appraisal of digital objects.
When it comes to gender issues, conditions are more acute as the need for Digital Curation becomes more pressing when we are faced with the dramatic events concerning its multiple territories. In them, information must be processed with the socio-cultural purpose of creating strategies and instruments to overcome numerous challenges and current injustices.
The book Digital Curation and Gender in Information Science: access and preservation addresses, through the combined vision of authors from the national and international panorama, issues concerning some gender issues in the perspective of improvements provided by Digital Curation actions and the particulatiries of preservtion and acces that apply.
----
This book is the result os discussions and collaborations intiated in 2020, the period one of the organizers was, as a Visiting Professor, at Universidade Carlos III de Madrid, grated by Coordenação de Aperfeiçoamento de Pessoal de Nivel Superior - Brasil (Capes), under the Capes-Print Program, No. 88887.310463/2018-00, International Cooperation Project No. 88887.468796/2019-00. We thank Capes for providing the opportunity for meetings with the involved scholars and for funding this collection.
Selo Editorial:

Apoio:


Base de Dados:
Capítulos
Preface

Archiving the bodygraphy memory:

bets for sensitive masculinity in the context of the bodyarchive

Female leadership in the emerging field of digital curation

Gender perspective on digital environments

Recovering "faith in Humanity":

data, content and information curation in confronting violence against women - a preliminary essay

Digital Curation in collections and digital environments of women's museums

Design and digital curation for a virtual space for the visually impaired

The role of digital preservation in digital curation

Information Retrieval:

representation of the subjective

Digital Curation in Information Science:

Information Design Strategies

Facets of Digital Curation in the postcustodial paradigm:

collective and social curation
Downloads
Não há dados estatísticos.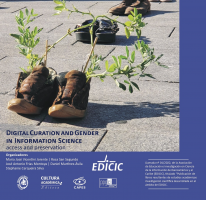 Downloads
Copyright (c) 2022 Faculdade de Filosofia e Ciências
Licença
Este trabalho está licenciado sob uma licença Creative Commons Attribution-NonCommercial-NoDerivatives 4.0 International License.
Detalhes sobre o formato disponível para publicação: E-book
Co-publisher's ISBN-13 (24)
978-65-5954-328-1
Date of first publication (11)
2022
Detalhes sobre o formato disponível para publicação: Impresso
Co-publisher's ISBN-13 (24)
978-65-5954-327-4
Date of first publication (11)
2022